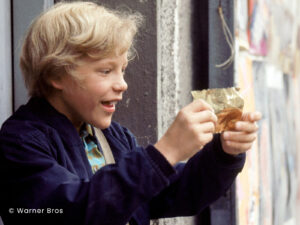 After a nationwide talent search, Peter Ostrum got the chance of a lifetime role playing Charlie Bucket in the 1971 movie "Willy Wonka and the Chocolate Factory" when he was twelve. Before that, he had only performed onstage at the children's theater at Cleveland Playhouse. The odds of getting the movie role were like winning one of five golden tickets in the movie and some discouraged Peter from even auditioning.
If you saw the movie, you know he was the heart center of it and so cute! He was offered a three-movie deal after playing Charlie Bucket but declined further acting opportunities.
Instead, he gravitated to a local large-animal veterinarian who loved his work and ultimately followed that path. He went to Cornell and became a veterinarian in 1985. He's a remarkable and accomplished man with a life he loves.
But many can't understand rejecting a successful, lucrative career – like the chance to be a big famous movie star – in favor of something you simply prefer. He's explained it repeatedly.
"It really wasn't for me" said Peter Ostrum about making movies.
Would you trade in a golden ticket to do something you love?
At Achievement by Design, career transformation was also on the table when I was a guest on "Everything Except the Law," hosted by Nick Werker. Here's a link to the podcast.